FBOEA supports several local, national, and international mission projects.
FISH of East Aurora is a food pantry for families in the south towns that FBOEA supports. We collect non-perishable food monthly for FISH. We have a Souper Bowl Sunday collection in conjunction with Super Bowl Sunday. We provide school supplies and Christmas gifts for clients of FISH. Several members of the congregation volunteer at the food pantry. For more information please look at their website:
Locally we give monetary support to Cradle Beach, Hearts and Hands, Friends of the Night People, Jericho Road, Salvation Army, the Community Mission of the Niagara Frontier, and FISH as mentioned above. We support the Fairport Baptist Home and Cameron Community Mission which are organizations partially funded through the ABC of New York State.
Additionally, we support the annual offerings of the American Baptist Church USA: America for Christ, One Great Hour of Sharing, World Mission Offering, and Helping Hands for Haiti. Our church has undertaken missions to provide much-needed assistance to the people of Haiti for several years. First Baptist will now store totes of receiving blankets, onesies, sterile wipes, sanitary pads, and other supplies used to fill the birthing bags, as well as sewing machines and sewing supplies. Twice a year there will be "sewing events" to make, fill, and pack the bags for shipping.
Current Mission News
Mission 2023 Update
One Great Hour of Sharing: We ran a successful campaign for OGHS in the spring. We raised $900 which was sent to American Baptist International Ministries.

We as a congregation indeed have not " grown weary of doing good."( Galatians 6:9) Our donations were used to send people to places we cannot go: to Ukraine to relocate those fleeing the war, or to Florida to rebuild hurricane-damaged homes, or to Alabama to clean up tornado damage, or to Haiti to find shelter for the homeless, or anywhere around the hungry world to set up food pantries.
Independence Day Pie Sale profits of $775.00 were sent to Journey's End Refugee Services in Buffalo. Our donations help Journey's End provide education, job training, housing, and employment to displaced people settling in our area.
In November we will be the hosting church for Helping Hands for Haiti. We will be sewing and assembling supplies for " birthing bags" These bags are given to women in rural Haiti to assist in safe childbirth. They contain sterile supplies, forceps, swabs, sanitary pads, onesies, receiving blankets, and more all inside a handmade fabric bag.
We sponsor a special mission event yearly to raise awareness and funds for various causes. These events include education, a themed meal, games, and fellowship.
2022| Ukraine Relief (Spring 2022) – International Ministries has so far sent $52,000 in refugee aid to provide food, shelter, medicine, and hygiene. This is from your OGHS annual offering. In addition, we have Missionaries in Hungary working to assist the Ukrainians.
Ukraine has 5 border points entering Hungary. Many of the refugees entering through these points are moving on to Poland or Germany where they may have a family. In the meantime, our missionaries offer temporary shelter in their own homes. Others are working in a school near one of the border crossings that has been set up as a welcome center. This is a stop-over where refugees can rest and warm up. They are given food- hot soup, sandwiches, and food to carry with them. They are given both physical and emotional support. Humanitarian organizations are attempting to evacuate and assist over 2 million people displaced by the war.
The work being done and the local efforts by our global servants can only be done with help financially. We are donating from our mission budget. You may make a personal donation if you would like by adding cash or a check made out to FBEA which we will add to our donation, making a donation directly to International Ministries/Ukraine Relief and sending it to 1003 W. 9th Ave, Suite A, King of Prussia PA 19406. You may donate online at internationalministries.org/disasterrelief.
Additionally, in 2022 we participated in Kids for Kids to provide educational assistance to underserved children. We have donated to American Baptist-sponsored programs to support an eye clinic and a clean water initiative in the poverty-stricken country. Also, OGHS provided Emergency relief grants for hurricanes, COVID-19 resurgence, Russian invasion victims, flooding, civil unrest, building fire, and tornados, as well as working on development and displaced persons grants for food and shelter, the homeless, refugees, teacher training, orphanages,  and after-school programs.
2021| Water for Life – We raised awareness and money to purchase treadle pumps and wells for the people of Sudan. I can't report on any specific community where our funds brought water relief. But I do suspect one group of people doesn't have to pray for rain anymore! Also in 2021, we asked for donations in support of resettlement efforts for the Ukrainian people displaced by war. The worldwide Baptist community assisted more than one million people to find safe travel and shelter.
Just this fall, we asked for school supplies for children in our community and we got four large boxes of crayons, folders, paper, pens, backpacks, and more. Later this year we'll ask you to participate in Kids for Kids to provide coats to children.
What a caring, generous church family!
2020| We purchased new toys for the local pantry FISH to distribute at their annual Christmas party.
2019 | White Cross – One-hundredth anniversary of fundraising for medical supplies for disadvantaged nations. In the photo below, Charlene is playing a game to identify medical supplies that might be sent to the Congo by touch alone.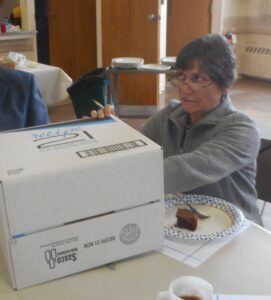 2018 | Birthing Bags for Haiti – We collected supplies and filled member-made cloth bags with supplies to assist home births in rural Haiti.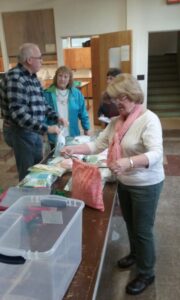 2017 | Piglets for Prosperity – We supported a Heifer International project to purchase pigs for families in Burundi and North Carolina. Members filled piggy banks with loose change for a month, we had a bacon cook-off and a pig-themed game.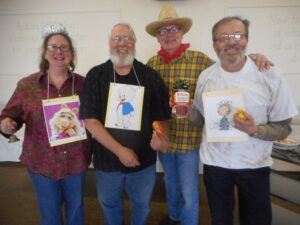 2016 | A mission event to raise money to support a school in Thailand included a geography game, Thai food, and a tie competition.