Pine Hill Baptist Church Scholarship
_________________________________________________________________________________________________________________
Congratulations to our 2023 Pine Hill scholarship winner Jakob Novick pictured below with our scholarship committee members Lendra Kress and Marge Lowrey. Jake will be attending Alfred State for heavy equipment management!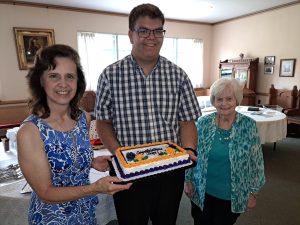 Each year a scholarship of $1,000.00 is available to assist with college expenses for a High School senior with a strong church and volunteer involvement. Applications are available below on this page and are due in May of each year.
Congratulations to our 2022 Scholarship winner, Vera Stolzenberg.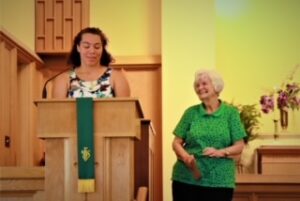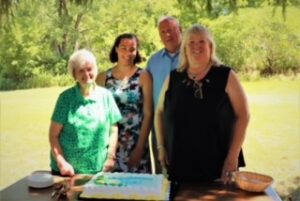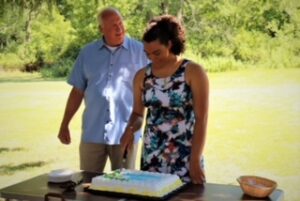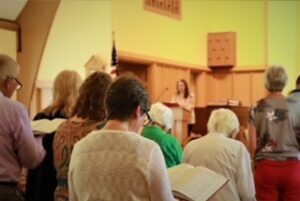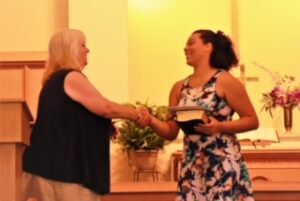 We congratulated, honored, and celebrated with our 2022 Pine Hill Scholarship winner, Vera Stolzenberg on Sunday, August 14th, during Morning Worship and at our picnic.
Vera graduated from West Seneca West High School with a grade point average of  97.9 !! Over the 4 years, she participated in  Key Club, helping with the canned food drive and fundraiser for the American Heart Association, International Relations Club, National Honor Society, Literary bites (book club), and Varsity Swim. She also volunteered at our ham dinners, spaghetti dinners, and Lion's Club dinners; as well as assisting in the Nursery and leading our hymns in morning worship whenever she was called upon. Vera was a valued participant and leader at all our very popular Trunk or Treat events and enjoyed assisting every morning at Vacation Bible School at Crossroads Christian Church
We wish her God's continued blessings as she continues her education at SUNY Brockport, majoring in International Business.
________________________________________________________________________________________________
2023 Scholarship Details
Administered by: The First Baptist Church of East Aurora | 591 Porterville Road, East Aurora, New York 14052 | (716) 652-2145
BACKGROUND: This scholarship was established in 1998, because of a donation from the Pine Hill Baptist Church, Cheektowaga, New York. It was the wish of the congregation of that church that a portion of the proceeds from the sale of their church property is used to continue the ministry of the Pine Hill Baptist Church by providing financial gifts to area students.
OBJECTIVE: The purpose of this gift is to provide funds to a college student to help meet expenses associated with higher education.
Students will be selected based on their commitment to the church and the community rather than academic accomplishments. Young people who demonstrate a strong faith and sense of community should be recognized.
A single award will be made each school year. The minimum amount of this gift has been set at $1000.00. Payment to the recipient will be made with two draws each academic year prior to the start of the fall semester and winter/spring semester.
QUALIFICATIONS: The recipient must be a resident of New York State and a church member (membership to The First Baptist Church of East Aurora is not required) who has demonstrated his or her active involvement with their church and community. Applicants must be planning to attend a 2-year or 4-year accredited college as a full-time student and maintain a passing average.
INSTRUCTIONS TO THE APPLICANT: Applicants must complete an application form, found below.
Applications and all requested information must be returned by May 12th, 2023.  Applications received after this deadline will be disqualified from consideration.
Applicants may be asked to meet with the nominating committee. Recipients of this gift will be asked to attend a presentation during the worship service at The First Baptist Church of East Aurora.
Any questions concerning the application process should be directed to the Scholastic Committee at The First Baptist Church of East Aurora.
Click the below link to get a downloaded copy of the application.
Pine Hill Baptist Church Scholarship Application (2)