FBEA supports a number of local, national, and international mission projects.
FISH of East Aurora is a food pantry for families in the south towns. We collect non-perishable food monthly for FISH. We have a Souper Bowl Sunday collection in conjunction with Super Bowl Sunday. We provide school supplies and Christmas gifts for clients of FISH. Several members of the congregation volunteer at the food pantry.
Locally we give monetary support to Cradle Beach, Hearts and Hands, Friends of the Night People, Jericho Road, Salvation Army, and the Community Mission of the Niagara Frontier and FISH. We support the Fairport Baptist Home and Cameron Community Mission which are organizations partially funded through the ABC of New York State.
We support annual offerings of the American Baptist Church USA: America for Christ, One Great Hour of Sharing, and World Mission Offering.
Current Mission News (from the Link Spring edition)
Plans are in the works to undertake a special mission project with Heifer International. You have all been very supportive of our major mission initiatives through the American Baptist Church- America for Christ, World Mission Offering, One Great Hour of Sharing- and locally with donations to FISH.
But we haven't had a Mission Event in over a year and hopefully, we'll be able to do so by October. "Water for Life" will be our theme and fundraising goal. We turn on a tap, flush a toilet, shower, water lawns without a second thought to the abundance, purity, and convenience of our water. Not so for much of the world. And we will endeavor to rectify that in some small way. If you would like, you could start your own personal donation bank by putting a quarter or dime or dollar aside for every time you drink a glass of water, or make coffee, or brush your teeth, or some other water use. Or wait until the fall and we'll all be in it together. Until then, thanks for your support.
P.S. Two of the local missions we support financially have reported some of their undertakings: Friends of the Night People served over 173,000 meals in 2020 and the Community Mission of the Niagara frontier provided 197,000 meals and 1,500 nights of shelter
We sponsor a special mission event each year to raise awareness and funds for various causes. These events include education, a themed meal, games, and fellowship.
2020| We purchased new toys for the local pantry FISH to distribute at their annual Christmas party.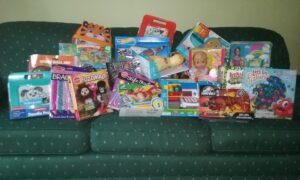 2019 | White Cross – One hundred-year anniversary of fundraising for medical supplies for disadvantaged nations. In the photo below, Charlene is playing a game to identify medical supplies that might be sent to the Congo by touch alone.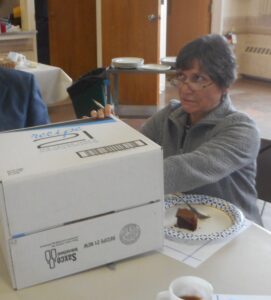 2018 | Birthing Bags for Haiti – We collected supplies and filled member-made cloth bags with supplies to assist home births in rural Haiti.
2017 | Piglets for Prosperity – We supported a Heifer International project to purchase pigs for families in Burundi and North Carolina. Members filled piggy banks with loose change for a month, we had a bacon cook-off and a pig-themed game.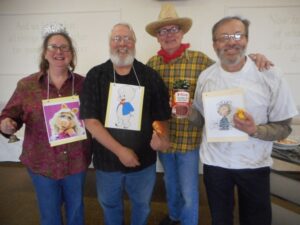 2016 | A mission event to raise money to support a school in Thailand included a geography game, Thai food, and a tie competition.